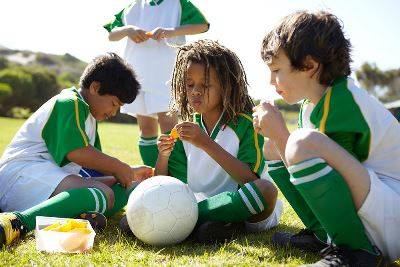 Practices are a good way to test what snacks work best for your child in regards to energy and performance. Just as the old adage goes for adult athletes, "Do not try anything new on race day;" this also can be applied to youth soccer players. Testing what food works well for pre/post practice can then be applied to pre/post games.
A snack before a soccer practice or game should be something that isn't heavy, but is enough to keep kids fueled. Try to fuel muscles 1-2 hours before an athletic event. Some kids will need two hours to digest before they play. This depends on the individual kid and timing of eating needs to be experimented with at practices. Also, a snack that travels well is best, since travel to and from games is commonplace.Make sure to avoid fatty foods, extra sweet foods, and caffeine. These cause spikes in blood sugar, and then sugar levels can drop quickly during performance. This will make kids feel sluggish.
Here are some examples of good pre-practice and pre-game snacks:
...