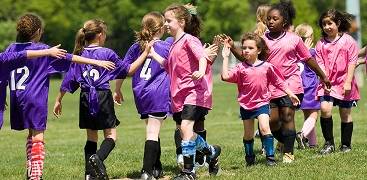 Children gain so much from participating in sports, like the opportunity to develop physical literacy and the chance to make lasting friendships. Playing sports can also help kids become better people as they grow up. My soccer teams have always been known for good sportsmanship. Through the years, coaches and parents from other teams have often told me that they like to play my teams, even when we beat them in competition, because my kids are basically "nice." That says something.
What makes my players nice? In a nutshell, I coach them to play to win, but always honestly and fairly. Compete as athletes, train hard, and then win by using your superior skill, fitness and intelligence. Don't compete with personal insults or dirty fouls or vulgar chants. We're not about "winning at all costs."
It's about honoring everyone and learning what respect really means. Most people will agree that good sportsmanship means honoring everyone on the field of competition, including opponents, officials, parents, spectators and ourselves. However, not all kids learn this.
...